This week I will not even attempt to describe the activity performed as well as Nicole from Burning Bushes does in her original submission of this craft.  She offers the following account of her sweet family's experience:
My little girl is really into Veggie Tales these days.  We've seen a few of the short videos and we have several of their great Veggiecational series books.  So, on a cold day a few weeks back, we used a salt dough recipe, added food coloring to various portions and made the entire Veggie family.  Aside from hysteria when the veggies were placed in the oven, my little girl (2 in 2 weeks!) absolutely loved the veggies.  They were her buds that traveled everywhere with her..that is until they broke or fell apart.  It was a great and very inexpensive way to make believe for a few days and create tangible 'friends' that had previously only existed on the page or screen.  Oh, and my 9 month old loved chewing on them.  Non-toxic, right???
With this in mind, look at the awesome-ness with which Nicole executed the details of the Veggie Tales crew!  I will certainly try this project, but I can't guarantee the same great quality of the veggies' facial results…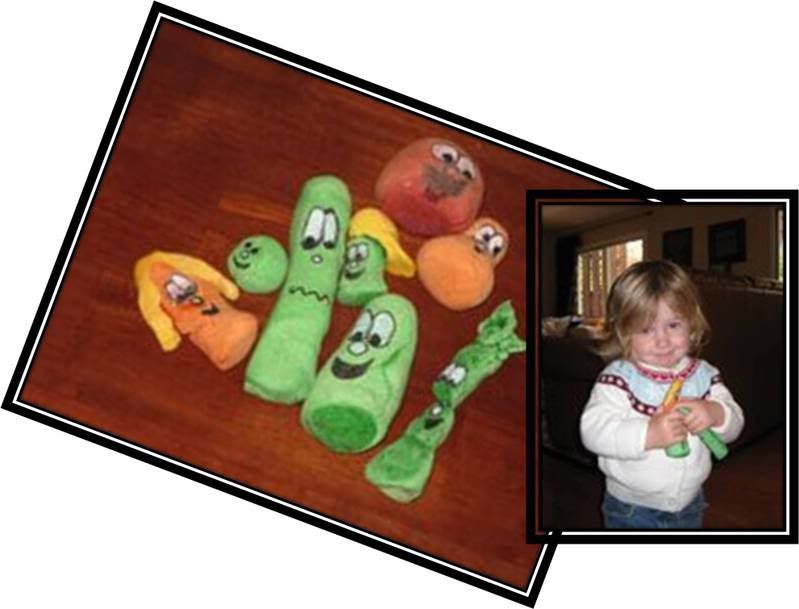 Thanks, Nicole and kiddos!  I've thoroughly enjoyed sharing this.