For me to even assume that a post of mine will inspire readers, I feel it is only right to first expose one of the main inspirations for this entire blog endeavor: Richard Louv.
Mr. Louv is the chairman of the Children & Nature Network, an organization created to provoke more of a connection between our children and the outdoors.  I have felt many of the sentiments of the program, but not until discovering the C&NN have I been able to fully understand what is wrong with our current educational approaches.
Louv's most popular work, Last Child in the Woods: Saving Our Children From Nature-Deficit Disorder, has provoked a widespread movement – aside from co-founding the C&NN – that includes the creation of the Leave No Child Inside initiative and the Nature Child Reunion.  Both have been created in the wake of Louv's book.
Last Child in the Woods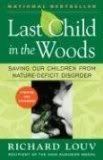 In my affection and excitement, I cannot help but expose the tip of the iceberg for you.
"As far as physical fitness goes, today's kids are the sorriest generation in the history of the United States.  Their parents may be out jogging, but the kids just aren't outside."
Louv is describing what he calls the "third frontier" in our societal progression. The first being actual colonization, the second involving farm culture and the pastoral, the third frontier is defined by five distinct attributes:
a severance of the public and private mind from our food's origins
a disappearing line between machines, humans and other animals
an increased intellectual understanding of our relationship with other animals
the invasion of our cities by wild animals (even as urban/suburban developers replace wilderness with synthetic nature)
the rise of a new kind of suburban form
Severance From Food's Origins
I believe this attribute to be true and very telling of our culture.  However, with the rise of awareness and progress in the health and wellness sector, I can see this disconnect on a downward slope.  Farmer's markets and health food stores are becoming more popular, as is the frequency of vegetarian and vegan restaurants and menu items.  With all of these moving in the right direction, I think we could still do a much better job of personally producing more than we consume; there's no mistaking the viability of "organic" claims that way.  I love being able to go directly from a garden to the kitchen for meal preparation — that's really making it from scratch.
Blurry Divisions Between Machines and Humans
"Even the definition of life itself is up for grabs."
Think of Dolly the clone, stem-cell research, the pro-life/pro-choice stances, and how the field of genetics is taking off in countless directions.  I understand that many of our children (including my own) are not quite ready to discuss or grasp the social intensity surrounding some of these issues.  But our children's perception of all of them depends on how we approach their education of such difficult topics. I have to admit: I'm having a hard time keeping up… I mean, Pluto isn't even a planet anymore.
An Ever-Expanding Knowledge of Animals
In many ways, this is one of our greatest hopes in getting kids outside… even if it is just a trip to the zoo.  The only animals that live inside are the ones you get to know quite well, and the curiosity wears off eventually.  Channels like Animal Planet and the Discovery Channel have pure intentions and offer wonderfully honest programming.  But, you have to be watching television… inside… most likely eating on the couch… to take in the messages.  Let's get our kids to take a book about animals outside.
Not-So Wild Life
When I drive through the suburbia we live in, it's pretty easy to imagine its development: bulldozing the entire landscape to build the houses; finding empty places to plan and manufacture a landscape for the parks; filling in the rest with brand new trees that still need braces to survive.  To be sure, having trees is better than the alternative, but I can't help but wonder what my street looked like before it was "developed."
Richard Louv had the patience to wrap his mind around all these factors and verbalize it so we could see it all in one place.  In the next post of this series, we'll go into his thoughts on biophilia and how the effects of what he calls Nature-deficit disorder are devastating, but surely reversible.
How do you encourage your children's relationship with nature?  Are you inspired by what Mr. Louv has to say?  What other attributes of our daily lives can you see as factors in how little children are outside?